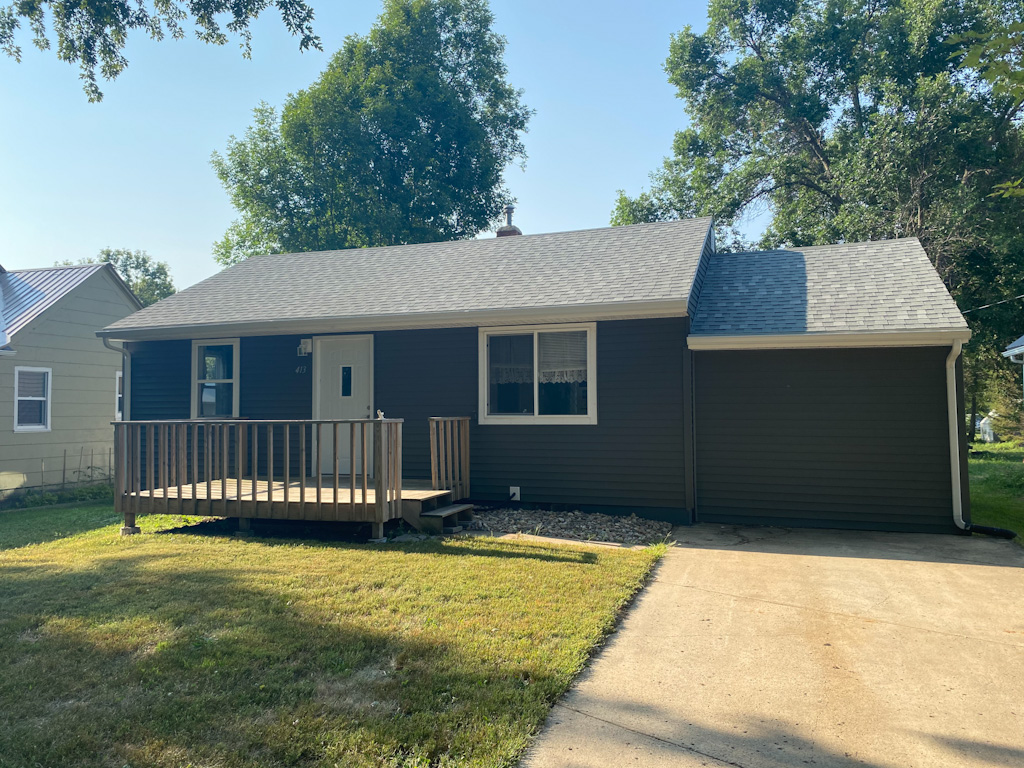 MOVE-IN READY. UPDATED. 1 BED, 1 BATH. STARTER OR RETIREMENT HOME.
This cute little home sits on a dead end street in quiet George, IA.  This home has been updated inside and out.  With 860 square feet on the main floor, you will have everything at your disposal all on one floor.  It has an open-concept with luxury vinyl plank flooring throughout.  The garage has been converted into a spacious bedroom.  The basement does have the possibility to host your laundry, if you would prefer.
A lot of the big-ticket items have been updated.
2018: New HVAC system, new vinyl fence, sewer line from the house to the street was replaced
2018/2019: Total renovation: new siding, gutters, back deck, windows (front of the house and bedroom), exterior lighting, interior lighting, new countertops/black splash, painted cabinets, appliances updated, updated outlets, new flooring throughout, interior paint, new sump pump in basement,  added lighting in basement
Don't miss out on this gem!  Call Kim or Adam at 712-441-6097 for a private viewing.
Property Type:
Single-Family
Main Floor Square Footage:
860 square feet
Total Living Square Footage:
860 square feet
Lot Dimensions:
50 x 150 x 50 x 150
Basement Construction:
Cement Block
Basement Features:
2018/2019: Added sump pump and more lighting
Roof:
Asphalt Shingle, 2018
Windows:
Vinyl, 2018/2019: New windows on front of home and bedroom
Average Utility Costs:
$220 per month (Includes: Electric, Gas, Water, Sewer, Trash, Recycling)
Heating System Updated:
2018
Cooling System Updated:
2018
Water Heater Size:
40 Gallons
Sewer Comments:
New line from house to the street in 2018
Setting:
Mature Trees, Level Yard, Quiet Street, Dead End Street
Hardscape:
Concrete Streets, Concrete Drive, Concrete Sidewalk
Structures:
Front Wood Deck: 6x12, Back Wood Deck: 12x12, added in 2018
Other:
Fenced Yard, Vinyl Fence: 2018
Cabinets:
Painted, Updated 2018/2019
Countertops:
Tile, Updated 2018/2019
Appliances:
Dishwasher (2018), Refrigerator (2018), Electric Stove, Microwave, Built-In Buffet
Living Room:
16 ft x 10 ft, LVP, Updated in 2018/2019
Dining Room:
11 ft x 8 ft, LVP, Chandelier, Built-In Cabinet, Access to Back Deck, Updates in 2018/2019
Laundry/Bathroom:
11 ft x 11 ft, Tile, 3/4, Tiled Walk-In Shower, Rain Shower Head, 4' Vanity, Washer/Dryer, Built-In Cabinets
Pantry:
8 ft x 6 ft, LVP, Built-In Cabinets/Shelving
Bedroom:
19 ft x 10 ft, Carpet, Ceiling Fan, Added in 2018
Unfinished Space:
29 ft x 21 ft, Concrete, Sump Pump (2018), Laundry Option, Utility Sink, Shelving
Included:
Kitchen Refrigerator, Dishwasher, Microwave, Stove, Washer/Dryer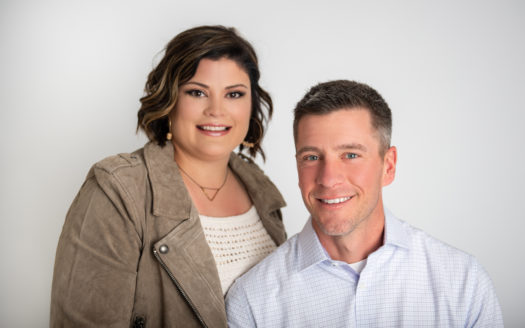 Phone: 712.737.3386
Mobile: 712.441.6097